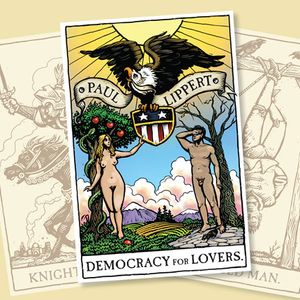 Democracy for Lovers
"This album is an expression of both my faith in and my doubts about America," says Lippert. "I want to celebrate the liberty that we Americans have been given, that many have fought and even died for, and be faithful to that gift by telling the truth as I see it." 
Alongside Producer Matt Brown (Trespassers William, Transmissionary Six), Lippert has created an album that sounds both fresh and classic in a hybrid of Rock, Americana, Folk, and Pop. "Our mantra became: 'whatever serves the song'," he says. "It was exhilarating and liberating to put the songs first and to try to keep my ego out of the studio. As a singer, this was a challenge. As a songwriter, it was a blast.
The album was inspired in part by Lippert's admiration of political columnist Molly Ivins. "This was a record that couldn't wait any longer," Lippert says. "When she passed away in 2007, I pledged to do my part to keep the fires of outrage burning until the end of the War On Terror. This album is in large part a tribute to her. In her honor, I hope to both stir some outrage and have fun while doing it."
Lippert is joined by rising Americana star Holly O'Reilly on harmony vocals and jazz vocalist Lauren Kinhan (New York Voices) on a captivating remake of Bacharach & David's "What The World Needs Now Is Love." Recorded in Seattle (The Track Shack), "Democracy for Lovers" features some of the region's finest musicians, including Keith Lowe on bass (Bill Frissell/The Willies, David Sylvian, Wayne Horvitz), James McAlister on drums (Sufjan Stevens, Ester Drang, Rocky Votolato), Rod Cook on guitar (Laura Love, Vicci Martinez), and Ryan Smith on organ (Jonathan Kingham, Mycle Wastman).
Mixed at Avast in Seattle (Matt Brown at the board) and mastered by David Glasser at Airshow in Boulder, CO. Cover illustrations by Tim Foley. 
New store features forthcoming.
For now, please visit 
iTunes
, 
Amazon.com
, or 
CD Baby
.
<< Back to Music page